Noctua Diem is a night to day health and beauty aromatherapy line created by John Vega, a Licensed Massage Therapist (LMT) and Certified Natural Health Professional (CNHP). After years of research and using his background in alternative medicine, John endeavored to create an all natural and purely botanical aromatherapy skincare line and beauty regimen focused on centering and relaxation. We have attained PETA cruelty-free accreditation and vegan-friendly recognition. We maintain a New York City-based production laboratory and produce through artisanal, small batch production methods ensuring the highest quality artisanal products. Production Production occurs in our Queens, New York laboratory. We produce using an artisanal, small batch production method. This means that we control the entire production and packaging process from sourcing our raw materials to packaging and labeling finished products. Our artisanal production utilizes minimum mechanization, ensuring a hand- made fit and finish product. We utilize no more raw materials than is required, and produce precise amounts of finished products to minimize product loss. Overall, this process ensures quality control because we control sourcing, product creation, packaging, and labeling. Our production process also creates a market advantage for Noctua Diem, positioning us unique among our competitors. Whereas competing companies, but particularly their production, are anonymous, factory-based, and mechanized, Noctua Diem can spotlight its artisanal, hand-made, small batch production, conjuring custom tailored, even couture products. Recognition Noctua Diem received recognition from People for the Ethical Treatment of Animals (PETA), the American animal rights organization, for its cruelty-free and vegan-friendly products. To obtain the cruelty-free recognition, Noctua Diem had to verify and assure that it does not employ any testing on animals for ingredients, formulations, or finished products. Noctua Diem produces numerous products that do not involve or otherwise use animal-based ingredients, which earned it license to use PETA's vegan-friendly logo. Noctua Diem Spa Noctua Diem's spa seeks to serve lifestyle conscious clients with a hassle-free, but full service spa experience. Our services menu offers something for everyone using our artisanal, all-natural products combined with cutting-edge technology.
John
Licensed Massage Therapist (LMT)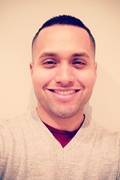 John Vega is the creator and founder of Noctua Diem. Using his knowledge in alternative medicine, aromatherapy, massage therapy, and herbology, he has created a completely vegan and organic spa experience.
1820 Grove Street, (Rear), Ridgewood
929-397-9070
Monday

Tuesday

Wednesday

Thursday

Friday

Saturday

10:00am - 6:00pm

10:00am - 8:00pm

10:00am - 8:00pm

10:00am - 8:00pm

10:00am - 8:00pm

8:00am - 4:00pm
63-03 Fresh Pond Road, (Rear), Ridgewood
9293979070
Monday

Sunday

10:00am - 5:00pm

10:00am - 5:00pm